Manor Dental Care
61 Manor Road, Wallington, Surrey SM6 0DE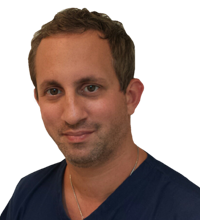 Nadeem has been creating beautiful smiles for his patients for over 13 years. Having worked at a number of prominent Central London Dental Practices he has had the privilege to treat and create the 'perfect smile' for his patients, including TV Celebrities, Actors, Musicians, MPs and Professional Sports Stars.
Nadeem has a special interest in Cosmetic and Implant dentistry and is a member of The British Academy of Cosmetic Dentistry. Being a perfectionist gives him the desire and fastidiousness to do the best for his patients.
Over the years Nadeem has completed 1000s of treatment plans and cases, below are just a few sample cases of his work.
Patient 1
Mr. W is a 27 year old man that was concerned with the appearance of his front teeth. He did not like the discoloured fillings of his central incisors, or the shape of his 2nd incisors. After a cosmetic consultation we decided to place veneers on all four of these teeth. The colour of the veneers was chosen to match his natural tooth colour. Mr. W was delighted with the results however we could have achieved perfection if Mr.W had opted for six veneers.
Patient 2
Mr. A is a 52 year old nervous patient. Prior to attending our practice he had not seen a Dentist for over 10 years. Mr. A is extremelyphobic andhe usually has sedation for his dental treatment. Being a heavy smoker he was concerned about the appearance of his teeth. After a detailed cosmetic consultation Mr. A. decided not to have cosmetic veneers. Instead he opted for cosmetic white fillings and a cosmetic clean, to remove the nicotine staining. On this occasion with considerate, gentle and careful treatment Mr. A managed to have this work without being sedated.

Patient 3
Mrs C is a 65 year old lady, she has been a patient of the practice for over 25 years. When I became her dentist Mrs C confided to me that she had never really been happy with the appearance of her teeth, particularly their position shape and colour. We initially discussed the option of treating Mrs C. with 'Invisible Braces' followed by tooth whitening. In the end Mrs. C opted for veneers and gum contouring on her front 4 teeth. Given the initial tooth position we were delighted with the outcome. The colour of veneers was chosen to match Mrs. C's own teeth colour.
Patient 4
Mr. O is a 47 year old male. His previous dentist had made him some veneers a few years prior, but Mr. O was not happy with the results. He did not like the colour, shape and brown edges to the teeth. After a cosmetic consultation Mr. O decided to whiten his natural upper and lower teeth and replace his existing veneers. As Mr. O wanted a 'Hollywood' smile the tooth whitening and veneers were taken to a brighter white shade that Mr. O was happy with.

Patient 5
Mr. J is a 31 year old male. He attended our practice following a bicycle accident where he fractured his two front teeth. Due to the trauma the teeth needed Root Canal Treatment to save them. It was suggested to Mr. J to have veneers on his front 4 teeth to improve his smile, however Mr. J decided to have two veneers fitted to the front two teeth only. The colour was chosen to match Mr. J's existing teeth.
Patient 6
Mr. K is a 32 year old male. He first attended our practice in 2011 after being involved in a serious car accident that resulted in his lost and chipped teeth. His old dentist had made him a denture and placed some crowns. Mr. K was not happy with the denture or the appearance of his crowns, particularly the front left central crown, which was too big, and the upper left canine crown, that had a large gap to its neighbour.
After a full diagnostic assessment the decision was made to replace the gaps in the upper right andupper left sides with Bridges. New crowns were then placed on his front teeth, the size and proportions of these crowns were slightly adjusted to close the gaps and give a more natural and balanced look to his smile. Mr. K also chose a slightly whiter colour to give a natural appearance, rather than a more obvious whiter colour.

Patient 7
Mrs. R is a68 year old lady. After initially attending our practice for her general dentistry she decided that she was unhappy with the appearance of her teeth. She was unhappy with the colour, position and shape, as well as the old crowns on her central and premolar teeth. After a full cosmetic consultation, the decision was made to change these crowns and place cosmetic veneers on her other front teeth. By doing them all at the same time we were able to also change the colour of her teeth. Mrs. R wanted a very natural appearance therefore we chose a shade that would not be too obtrusive. Mrs R was delighted with the outcome and feels that it has given her a new confidence.

How to Find Us
Manor Dental Care
61 Manor Road
Wallington
Surrey SM6 0DE

Call us

020 8669 5399

Tell Your Friends!
Opening Hours
| | |
| --- | --- |
| Monday | 08.00 am - 05.15 pm |
| Tuesday | 08.00 am - 05.15 pm |
| Wednesday | 08.00 am - 05.15 pm |
| Thursday | 08.00 am - 06.30 pm |
| Friday | 08.00 am - 05.15 pm |
| Saturday | 09.00 am - 01.00 pm |
Ask the Experts